Resources for Medical Providers
The Louisiana Health Access Program is administered by the Louisiana Office of Public Health.  It acts as a secondary payer for insured Louisiana residents who meet specified financial and medical criteria.
LA HAP subcontracts with a Baton Rouge-based social services organization called HAART to review and pay claims for clients through the Health Insurance Program (HIP).
Member enrollment and eligibility can be verified by calling LA HAP at 504-568-7474. Claims status and payment authorizations can be verified by calling HIP at 225-424-1799.
Medical, dental and vision claims can be sent via fax to:
225-927-1267
Or mailed to:
Attn: Health Insurance Program
PO Box 66913
Baton Rouge, LA
70896
HIP maintains an open provider network— they accept claims from any medical, dental or vision provider who bills HIP on behalf of their members. The member's primary insurer should be billed first for services. With the exception of costs associated with an inpatient hospital stay, which is outside HIP's scope of coverage, any co-pay, coinsurance, or deductible may be billed to HIP. Please be advised that HIP cannot reimburse its members for any payments they make directly to providers. If you have questions related to the HIP billing process or require payment upfront before rendering services, please contact the Health Insurance Program at 225-424-1799.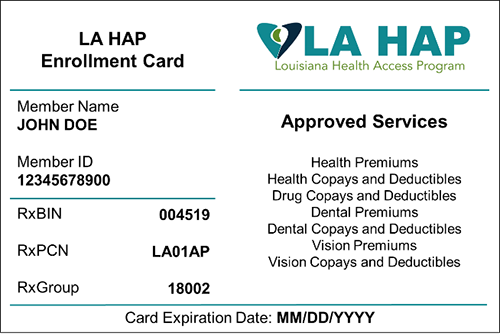 Members are encouraged to present their LA HAP card at the time of their appointment along with their primary insurance card.
For more information, please refer to: